Nursery Trees for the New Orchard
Starting an orchard with high quality nursery trees is the first key to a successful planting. High quality trees will quickly establish, grow to the desired height, and fill their space. The right trees will be ready to produce fruit in the 2nd year, and will reach full production a few years later (Figure 1). Planting the right tree means early cropping, which is the key to profitability of your new orchard.  Trees of lesser quality can eventually fill their space and produce good yields, but the early returns are lost, so profitability over the life of the planting will be less.
The ideal nursery tree will have these qualities:
at least 1.7 m (5 ft) tall, preferably 2-2.2 m (6-7 ft)
an abundance of healthy roots (Figure 2)
a dominant straight leader
6-10 "feathers" that are 12-25 cm (6-12") long (Figure 3)
the bottom feather no lower than 24" (60 cm) above the soil when the tree is in place in the orchard (Figure 4)
feathers distributed along the leader at regular intervals
delivered unbroken, with moist roots and no disease.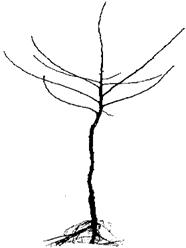 Example of well feathered tree
A feather is a branch that is produced in the same year as the leader. Feathers are sometimes produced in strong growing first year budded trees (although usually not enough feathers), or by a Knip-boom tree technique (where the one-year nursery tree is cut at the 60 cm (24") height and re-grown a 2nd year, producing feathers on a strong-growing leader). Research is ongoing to test plant growth regulators to induce feathering as well.
Some nurseries sell a 2-year branched tree produced by growing the trees for a 2nd year in the nursery (Figure 5), but without the Knip cut (as above). On these trees, the side shoots are called branches, and are often not as precocious as feathers. Growing a tree with feathers takes extra care and expense in the nursery, so feathered trees are more expensive (Figure 6).  When combined with the proper care, however, feathered trees will return the cost many times over.
Trees should be ordered at least 2, and preferably 4 years in advance. This will ensure that the desired cultivar/rootstock combinations are available, and allows the nursery grower to grow the trees you want.